Children's Book Week 2015 Preview
We have your favorite Children's Book Week traditions and exciting new events heading your way! Here's a look at some of the highlights:
Free Comic Book Day: The Children's Book Council and Every Child a Reader are teaming up with Diamond Comic Distributors and
the Comic Book Legal Defense Fund for the first-ever Free Comic Book Day on May 2! Over two million free comics will be distributed at comic book stores throughout the country during this CBW kick-off event!

Bookstore Events & Author Visits: Bookstores nationwide will be joining the Children's Book Week celebration. Visit bookweekonline.com/official to find a participating bookstore near you!
CBW #storylines: This year we're launching #storylines, a series of inspiring and uplifting quotations from children's literature new and old, to run through Children's Book Week on the CBC website, Twitter, and Pinterest! Share your favorites all month long!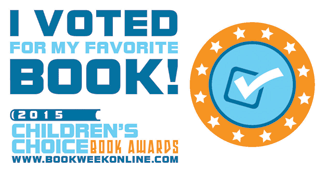 Eighth Annual Children's Choice
Book Awards: Voting is open now through May 3 at ccbookawards.com for the only national book awards program where winning titles are chosen by young readers of all ages. Winners will be announced live at the Children's Choice Book Awards Ceremony on May 4.
Literary Landmarks: The ALA-CBC Joint Committee of the Children's Book Council has teamed up once again with United for Libraries to establish literary landmarks for each day of Children's Book Week 2015. Confirmed sites include New York City's George Bruce Branch Library, in memory of the late author and National Ambassador for Young People's Literature Walter Dean Myers.
The unPrison Project: In honor of Mother's Day (which falls on May 10, the final day of Children's Book Week), the Children's Book Council is partnering with the unPrison Project to create new libraries of books for incarcerated mothers and their young children. We've invited all of our 80+ member publishers to submit books for inclusion in prison nurseries in 10 states.
Find out more, including ideas for your own Children's Book Week celebrations at bookweekonline.com!