ECC Board
Hillary Doyle (Chair)
Rights Manager, Scholastic
Hillary is from Cincinnati, Ohio, though her hobbies of reading and musical theatre have always pulled her towards NYC! After graduating from Ohio State in 2013 with a degree in English and Linguistics, she moved to NYC for her first real job at Scholastic. When non re-reading Harry Potter, Hillary enjoys Irish dancing, seeing Broadway shows, and pretending to understand football so she can cheer for the Ohio State Buckeyes.
Alexa Frank (CBC Liaison to the ECC)
Special Projects Coordinator, Children's Book Council and Every Child A Reader
Alexa grew up just outside of NYC; AKA Westchester, but no one from Westchester likes to admit they're from Westchester. She graduated from Bard College with a dual degree in Film and Asian Studies, but has always been a big reader and writer. That along with her Japanese language skills helped her land internships at Hachette and Random House before joining the CBC last fall. In her free time (that isn't dedicated to reading the massive pile of books next to her bed), Alexa enjoys drawing, studying film and animation, watching great and horrible TV shows in equal measure, and very moderate exercise.
Elizabeth Lynch (Secretary)
Assistant Editor, HarperCollins Children's Books
Elizabeth is from Fairfield, Connecticut, and she joined the HarperTeen team in 2013. She graduated from Northwestern with a degree in Journalism, but turned to children's publishing when she realized that she'd attempted to turn every article she wrote into a missive on the importance of teen culture. Besides all the reading-for-fun (including reminding herself to read an adult book every once in a while), she loves to bake, and can often be found Instagramming a picture of a cake.
Jessica Anderson
Assistant Editor, Macmillan Children's Publishing Group
Jessica grew up in Montreal, Canada, and studied Comparative Literature and Society at Columbia University. After interning over a few seasons at Holt BYR, she was thrilled to join the Macmillan Children's team in 2015. In her spare time, Jessica can be found toiling through distance races with no training, forcing her book club to read the latest Diary of a Wimpy Kid, and hanging out with other people's dogs.
Orlando DosReis
Assistant Editor, Abrams Books for Young Readers, Amulet, and ComicArts
Orlando grew up in the Hudson Valley in New York before moving far away to study children's literature at Virginia Tech and Kansas State University (where he wrote his thesis on Harry Potter!). After graduating, he suddenly found himself in NYC as a managing editorial intern at Bloomsbury USA. When he's not reading, he's usually playing volleyball or visiting his dog, Teddy, upstate.
Stevie Durocher
Publishing Assistant, Random House Children's Books
Stevie grew up in the Northeast Kingdom of Vermont. (Believe it or not, that's really what it's called!) Eventually, she made her way over to the other side of the state where she studied English Literature, Dance, and Secondary Education at Middlebury College. After college, Stevie stayed in Middlebury teaching high school English but is now putting her OCD to work at Random House.
Amalia Frick
Editorial Assistant, G. P. Putnam's Sons, Penguin Young Readers
Amalia grew up by the flatirons in Colorado, where she acquired a taste for coffee and children's literature. She studied English, and Critical Theory and Social Justice at Occidental College in Los Angeles before trading palm trees for sky scrapers. She is a graduate of the 2013 NYU Summer Publishing Institute, and began working at Penguin Young Readers shortly thereafter. Amalia enjoys folk music, yoga, and greeting other people's dogs.
Emma Kantor
Publicity and Digital Content Manager, Children's Book Council and Every Child A Reader
Emma was raised in northern New Jersey, but tries to pass as a native New Yorker. She graduated from Vassar College, where she studied English and Italian. She hopes to put her dual degree to good use someday by visiting the Bologna Children's Book Fair. She's delighted to share her love of all things kid lit as Publicity Manager at the CBC. From time to time, Emma turns off her editorial brain to perform improv comedy.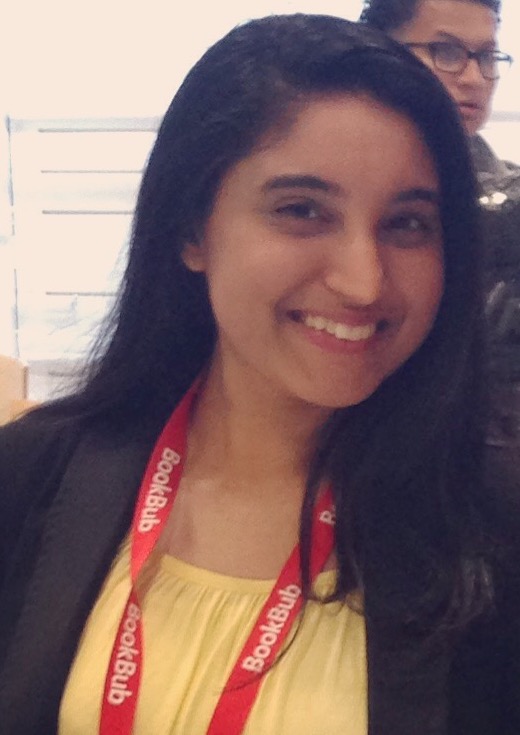 Shifa Kapadwala
Publicity Assistant, Simon & Schuster Children's Publishing
Shifa Kapadwala was born and raised in Long Island, NY. She has been passionate about stories ever since the very beginning—they were a doorway to learning a different language, culture, perspective, and so much more. Her love of children's books and the desire to share the love, compassion, and understanding that books create led her to pursue a career in children's publishing. Shifa graduated from CUNY Queens College with a major in English and double minor in History and Honors in the Humanities. She then went on to attend the Columbia Publishing Course in 2013. Outside the office, you can find Shifa hopping coffee shops to discover her next favorite coffee place, consoling her ever existent sweet tooth, and binge watching her favorite TV shows.
Nicole Sclama
Editorial Assistant, Houghton Mifflin Harcourt Books for Young Readers
Nicole grew up in Maryland, went to college in Washington, D.C., and went to graduate school in Chicago before moving to New York to be in publishing. She spent two years at Abrams Books where she worked on everything from picture books to YA to graphic novels for both children and adults. She now focuses on picture books, middle grade, and YA at HMH. In her spare time, she enjoys reading, going to the movies, reading a little bit more, and all things Disney.
Angela Taldone
Design Assistant, Little, Brown Books for Young Readers
Angela was born in Manhattan, raised in the Poconos, college-educated in Virginia, and now resides in Brooklyn. She graduated from Bridgewater College with her B.A. in English Language and Literature in 2015. In December 2016, she graduated from Pace University with her M.S. in Publishing, where she completed a graduate assistantship with the Pace University Press. With her experience at the Press, what was once a hobby became a profession, and Angela joined LBYR's design team in May 2016. In her free time, Angela is either traveling great lengths for vegan food or sitting at home watching an unhealthy amount of HGTV.