The Diversity of Success: How Publishers Create Captivating Stories
This event is free with a BEA badge.
This BEA panel – held at the Javits Center (Room 1E07), immediately following the Children's Breakfast – will focus on the specific success stories of three diverse children's and young adult titles.
A book can achieve success in many different ways – earning out its advance, garnering lots of engagement, launching the author into a new age category, reaching the market it was intended for, and more. Each panelist (one editorial director, one marketing/publicity director, and one sales director) will discuss the success of a single title and how it might be applied to others.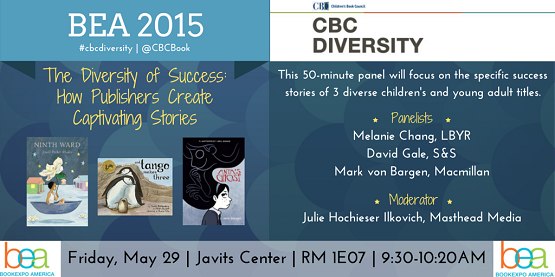 Panelists:
Melanie Chang, Vice President of Integrated Marketing at Little, Brown Books for Young Readers.
Melanie has over 20 years of experience in children's books with a focus on publicity and communications before incorporating marketing and promotions under her leadership in Little, Brown. Over the course of her career she has worked on the campaigns of bestselling children's book authors Chris Colfer, Julie Andrews & Emma Walton Hamilton, Cornelia Funke, Philip Pullman, Christopher Paul Curtis and Mary Pope Osborne.
David Gale, Vice President & Editorial Director at Simon & Schuster Books for Young Readers
David works with award-winning authors Tim Federle, Emily Gravett, Pete Hautman, Katherine Rundell, Benjamin Alire Saenz, Neal Shusterman, Andrew Smith, Ellen Wittlinger, and Rick Yancey. Before joining Simon & Schuster in 1993, David worked at HarperCollins, Dell/Delacorte, as a book review editor at School Library Journal, and in textbook publishing.
Mark von Bargen, Senior Director of Trade Sales for Children's Books at Macmillan
Mark started in the book business in 1988 as a book store manager and has held buying, marketing and sales positions at Baker & Taylor, Simon & Schuster and Macmillan. He currently specializes in children's book sales through independent bookstores and educational wholesalers and is a member of the CBC Diversity Committee

Moderator:
Julie Hochheiser Ilkovich, Co-Founder, Managing Partner, and President of Editorial Operations at Masthead Media Company is a digital content, marketing, and social media specialist-as well as a career expert. She is also the vice president of Young Professional Programming for New York Women in Communications.
Julie was previously the editorial director of Digital at Alloy Entertainment/Warner Bros., site director for the Hearst Teen Network (which includes Seventeen.com), and an editor and on-air personality at AOL RED, AOL's teen channel. She is a graduate of the Boston University College of Communication. Julie's career advice can be heard regularly on SiriusXM's Wake Up! with Taylor and has been featured in outlets including USA Today, Cosmopolitan, Woman's Day, HuffPost Live, Crain's New York, TheStreet.com, and Good Day New York.