Good Dogs Go to Graphic Novels
By Ryan Mita
The weather is remaining pleasant and I'm spotting dogs across NYC. While sitting my friend's Rhodesian Ridgeback, I decided to read new comics with canine characters. Good thing I'm on CBC's Graphic Novel Committee!
Here are some notable ones:
Flop to the Top!
Eleanor Davis & Drew Weing
TOON Books
In this hilarious comic for early readers, Wanda considers herself the star of the family. But when a selfie with her bulldog goes viral, Wilbur is the one invited to party with Sassy Cat! Wanda's honest reactions as Wilbur starts a Hollywood life without her are wonderfully illustrated by Davis and Weing.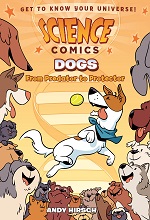 Science Comics: Dogs
Andy Hirsch
First Second Books
Andy Hirsch created a marvelous non-fiction comic! Hirsch uses the form expertly to make dogs entertaining (and informative) to young readers. Their evolution, personality traits and abilities are all delightfully explored. The strong back matter (glossary and bibliography) supports the appealing artwork.
Anna and Froga: Completely Bubu
Anouk Ricard
Drawn & Quarterly
Everyone has a friend like Bubu: bossy, yet supportive. He will wonder aloud: "Guys, what's wrong? All I said was PLEASE don't bend the cards." This quirky collection of short comics features well-rounded, adventurous animals being pals. Appropriate for readers of Middle Grade with a funny bone.