EBSCO Announces the 2017 SEE-IT Award Winner at ALA Annual

Earlier this year, EBSCO partnered with the Graphic Novel Committee of the Children's Book Council to launch the SEE-IT Award to recognize the cultural and literary impact of youth graphic novels. An acronym for Stories Engagingly Expressed—Illustratively Told, the SEE-IT Award recognizes outstanding achievement by authors and illustrators in delivering a graphics-driven reading experience that story-lovers of all ages have found hard to resist.
Six finalists were announced in April. Copies of the six finalists were raffled at the ALA Annual Convention daily and the winner was also announced!
The 2017 SEE-IT Award Winner is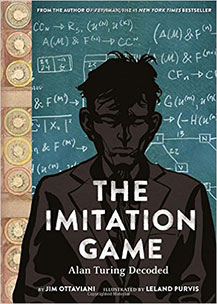 The Imitation Game: Alan Turing Decoded, by Jim Ottaviani and illustrated by Leland Purvis (Abrams Comic Arts).
Congratulations to this year's finalists and winner!
For more information about the SEE-IT awards please visit https://www.ebsco.com/see-it.