Discover fun and exciting new resources on the Every Child a Reader website!
"Promote the Vote" with these Children's & Teen Choice Book Awards resources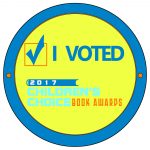 Find logos, banners, sample social media posts and more on our Media Tools page!
– Use our voting banners on your websites and social media 
– Already cast your vote? Let the world know with an "I Voted" badge on your social media. Link back to everychildareader.net/vote and encourage others to Voice Their Choice too!
– Teachers: Discover amazing resources for each finalist title at TeachingBooks.net


Plan a voting party or event at your library, bookstore, school or home with our Brand New Voting Tools!
– Create a voting booth with a cardboard partition and our printable ballots. You can tally votes and enter them in our group ballot!
– Supplies for a fun-filled voting event are at your fingertips with our coloring pages, crosswords and word search
– Highlight the finalist titles on your shelves with our shelf talkers!
Encourage kids to vote on their own at EveryChildaReader.net/vote
Celebrate the best Children's Book Week ever, May 1-7, 2017
Find everything you need to to spread the word about Children's Book Week with our Media Tools!
– Champion books and reading with our Children's Book Week Champion badge
– Post the Children's Book Week logo online, in your email signature and more
Discover a multitude of resources for teachers, librarians, booksellers and more on our Fun Stuff page!
– Take a look at this year's beautiful Book Week poster, buy the one and only Christian Robinson
– Download and print four spectacular official book marks buy four spectacular artists
– Keep your eyes peeled for our first ever "One World, Many Stories" graphic novel, coming soon!
Don't forget to check out info on this year's display contest, and see what our amazing partners are up to and the resources they have created to celebrate Children's Book Week!
Looking for a Children's Book Week event in your area? Our interactive map is here to help you find all the fun in your area!