#MathicalBooks Social Media Contest – Starts April 28!
What is Mathical: Books for Kids from Tots to Teens?
Books can be a fantastic way to get kids of all ages excited and interested in math. Now, there's a new annual book prize, Mathical: Books for Kids from Tots to Teens, recognizing the most inspiring math-related fiction and nonfiction books for youth of all ages. Mathical is presented by the Mathematical Sciences Research Institute (MSRI) and the Children's Book Council (CBC).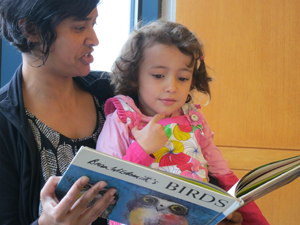 What is the #MathicalBooks Social Media Contest?
To help celebrate this first-of-its-kind resource, we want to hear from you! Engage with us on social media, using the hashtag #MathicalBooks for the chance to win Mathical books!

Three entries will be selected to receive the grand prize: a complete set of the four Mathical award-winning books plus this year's Hall of Fame book. Mathical honor books will also be randomly awarded to a select number individuals and organizations who participate!
Consider responding to the following questions, or share your experiences related to math and children's/young adult literature:
Who are you? Are you a kid? How old are you? A parent? A teacher? A librarian? A literary nonprofit?
What math-related books do you love, and why? Have you read one of the Mathical award-winning or honor books? Which one? What was your favorite thing about the book? Who was your favorite character? Did you learn something surprising about math along the way?
Do you have any questions for one of the authors of the Mathical books?
Which book do you think should be nominated for next year's Mathical prize?
The challenge kicks off on April 28 and runs for two weeks, ending on May 12, 2015.
How does it work?
Participating in the competition is easy. Social media users can simply post on Twitter, Facebook, or Instagram during the two-week challenge period. To be eligible to win the competition, posts must:
 Be publicly visible—if they're private, we can't see them to judge them!
Include the #MathicalBooks hashtag.
Discuss math and literature, offer a reaction to the Mathical award winners or honor books, or ideas for how to get kids excited about math with the help of literature.
Adhere to community guidelines on the platform of choice (no profanity, spam, or otherwise inappropriate content).
Be submitted before 11:59 p.m. EDT on May 12, 2015.
After the challenge concludes, the Mathematical Sciences Research Institute will randomly select winners. Winners will be notified via social media by the week of May 25.
Who is eligible?
We encourage libraries, nonprofits, parents, teachers, students, or any book and math lovers to participate! The challenge is open to organizations and people of all ages from anywhere in the world. We simply ask that those under the age of 13 request parental approval before participating in the challenge, as required in the community guidelines for Twitter, Facebook, and Instagram.


What are the #MathicalBooks?
The Mathical prize winners (published in 2014) are:
Pre-K:
Have You Seen My Dragon? by Steve Light
Grades K-2:
One Big Pair of Underwear by Laura Gehl
Grades 3-5 and Grades 6-8:
Really Big Numbers by Richard Evan Schwartz
Grades 9-12:
Nearly Gone by Elle Cosimano
The Mathical Honor Books (published 2009-2014) are:
Pre-K:
Count the Monkeys by Mac Barnett
Over in a River: Flowing Out to the Sea by Marianne Berkes
Grades K-2:
Zero the Hero by Joan Holub
Grades 3-5:
Bedtime Math: This Time It's Personal by Laura Overdeck
Blockhead: The Life of Fibonacci by Joseph D'Agnese
Edgar Allan Poe's Pie: Math Puzzlers in Classic Poems by J. Patrick Lewis
Numbed! by David Lubar
The Rookie Bookie by L. Jon Wertheim and Tobias Moskowitz
Grades 6-8:
Mathemagic! Number Tricks by Lynda Colgan
The Ice Castle: An Adventure in Music by Pendred Noyce
Grades 9-12:
The Unknowns by Benedict Carey
What Is Relativity?: An Intuitive Introduction to Einstein's Ideas, and Why They Matter by Jeffrey Bennett
The Mathical Hall of Fame Book is:
Alice's Adventures in Wonderland and Through the Looking-Glass, and What Alice Found There by Lewis Carroll
Questions?
Email sschmidt [at] msri [dot] org with any #MathicalBooks questions.