Celebrate Free Comic Book Day, Kicking Off Children's Book Week on May 2
With over two dozen titles to choose from — including contemporary classics and new releases — there's a free comic book to spark every young reader's imagination! To find a participating comic book store, visit www.freecomicbookday.com/storelocator.
Throughout CBW, comic shops, bookstores, and libraries will host official events in all 50 states. See what celebrations are happening near you at www.bookweekonline.com/official!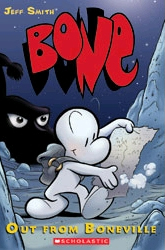 Top 25 All-Time Favorite Children's Graphic Novels
To help celebrate Children's Book Week, Diamond Comics has compiled a list of the Top 25 All-Time Favorite Children's Graphic Novels. Pick up a good book to read now!
To help celebrate Children's Book Week, here's a list of the Top 25 Notable New Releases: new kids' graphic novels that have come out in the past year. Find a great kid's graphic novel right now!
About Children's Book Week
Established in 1919, CBW is the longest-running national literacy initiative in the country. Each year, official events – which give kids the opportunity to connect with their favorite authors and illustrators in person – are held from coast to coast. In 2015, official events will be held in all 50 states. Learn more at bookweekonline.com.
About Free Comic Book Day
Free Comic Book Day is the comic book specialty market's annual event where participating comic book shops across North America and around the world give away comic books absolutely free to anyone who comes into their comic shops. The event is held the first Saturday in May and is the perfect opportunity to introduce friends and family to the many worlds of wonder available at local comic book shops. From super-heroes to slice-of-life to action/adventure and beyond, Free Comic Book Day has a comic book for everyone!