Books Save Lives: Support the Ferguson Library
On Monday, a St. Louis County grand jury determined that a white police officer who shot and killed an unarmed black teenager in Ferguson in August would not be charged, spurring unrest in the community and across the nation.
While schools in the area remain closed today, the Ferguson Municipal Public Library's doors are open, providing a vital safe space for the community: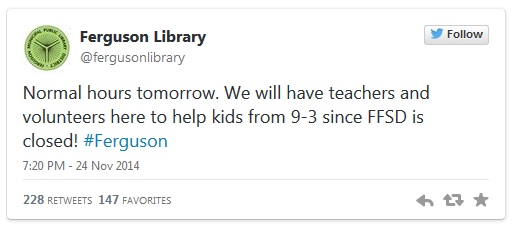 We encourage you to support the community of Ferguson by supporting their library. Donations can be made by clicking the "donate" button at the top right of their website here. You can also follow the library on Twitter for live updates.
Update (5:13PM):
The Ferguson Library has already seen a groundswell in donations. Says Library Director Scott Bonner:
Libraries are famous for squeezing every dollar, making the most of what we have. This will greatly enhance our limited budget, opening up options to help the community, build more community-focused programming, and make some long-overdue updates to our offerings and infrastructure. I don't feel comfortable sharing how much we've received yet, in part because it just doesn't seem real yet, but I can say that over 2,000 people have donated, that the figure is 5 digits. What I hope is that I can hire a full-time children's/programming librarian because of these efforts. Right now, I'm the only full-time person at the library, so my capacity for handling programming is limited. With a second, specialized librarian, our power to help the people of Ferguson will increase many times over.